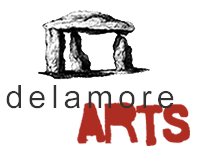 Delamore Art - Every Day in May - 1030 - 1630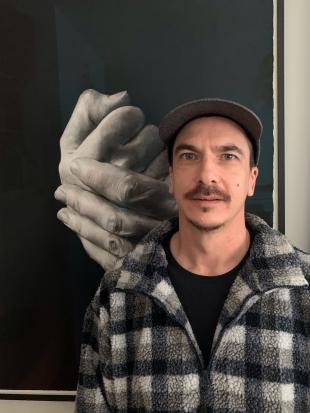 Delamore Prize Winner 2021 - Philip Battely
Each year Delamore Arts award a prize to the most promising Painting, Drawing and Printmaking graduate from Plymouth College of Art based on the students' work exhibited at their final year show.
This year's prize was awarded to Philip Battley for his charcoal drawings. Philip was born in Plymouth where he still lives and works. Returning to study part time as a mature student he graduated with a first class degree. As well as being awarded the Delamore Arts prize at his final show, Philip also won the Artmill Gallery framing award and a commendation from the Brownstone Gallery. In 2019 one of Philip's drawings 'Stand' won the student award in the Trinity Buoy Wharf Drawing Prize and he has gone on to have work exhibited nationally and win further awards at the South West Academy Open exhibitions in 2019 and 2021.
"My work to some extent involves delving into social, political, and economic tensions that exist beneath life's surface. I express what I want to say on these issues in my own way, subsuming information from varying sources and then coming to a conclusion through imagery.
Each drawing evolves through a constant process of application and removal, striving to obtain the levels of texture and tone that I feel best describe the form. Throughout the work's construction there is a constant dialogue. An exchange between previous and subsequent marks made, a conversation, with the drawing directing me towards what it needs to become. I feel that within this balance of direction and intuition the drawing's mass of forms become cohesive and breathe life into the work."
The majority of Philip's studio work has been focused on portraiture, but during the summer of 2021 he took part in a residency at Canonteign Falls.
"Making a break from portraiture and forging a connection with the landscape was an exciting project. Learning to adapt my drawing process and the mark making techniques I use in one subject and transferring them into another to deliver a felt response to my experience was challenging but rewarding. I have continued creating within this theme with a focus on place and memory and have produced two new drawings for the Delamore exhibition."
8th April 2022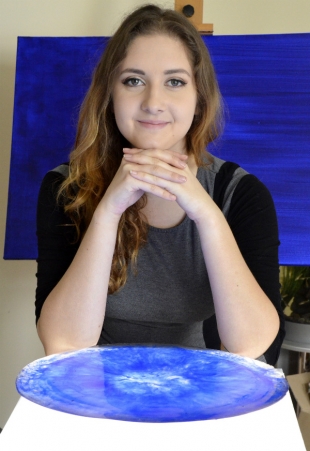 Delamore Arts Prize Winner 2018 - Becky Elia
Artist Becky Elia has always been fascinated by colours. But it's not just the colours in themselves that interest her, it's the science of colours and how our perceptions of them change depending on how they are presented to us.
Currently, Becky's colour-of-choice is Ultramarine blue. It was her blue-inspired installation that caught the eye of the judges of the 2018 Delamore Arts Prize, awarded each year to the most promising artist to graduate from the Plymouth College of Art Painting, Drawing and Printmaking Course. The award is judged on the work shown at the college's end-of-course exhibition. For Becky's exhibit, she created a blue room with blue resin lenses for the ceiling light source and three white plinths. Each plinth had a small pile of colour pigment sitting on the top – one yellow, one blue and one red.
Becky has recreated the installation for Delamore Arts – by taking over a potting shed at the house: "They've given me full reign over the shed, so with some help I've been able to give it a complete makeover," said Becky. "The shed isn't as big as the room at the college, so there will be one large plinth rather than three, to allow visitors the space to move around the exhibit."
"I was looking into the value of blue," she explained, "because centuries ago the pigment used to create blue paint, Lapis Lazuli, was more expensive than gold. That's why the Renaissance artists used blue very sparingly – it had to be for something special, like Mary's cloak. I was fascinated by how unobtainable the colour blue was in any raw form, so I created a lens, by filling a mould with resin and adding thin blue pigments into the resin, as a way to preserve and possess the precious colour and make it obtainable forever. I then project light though the lens, which fills the surrounding space with an immersive, ethereal blue hue. By doing this, I make the colour unobtainable again - this is my way of performing a kind of alchemy using science, art and nature. I am encouraging participation from the viewer so they can move around the room and get in touch with the colour blue, almost like they are floating in a void. And there is an opportunity within the installation for the audience to get involved and to question what we think we know about colours, for example, if we perceive colours differently depending on the surrounding environment. Does that change the reality of the colours - by altering our understanding and therefore definition of what we see? Do colours exist just because we perceive them? Do we all see colour the same way? What is colour?"
Becky will also be exhibiting some of her paintings, which continue the blue theme and will also include gold leaf – "but used differently to how gold leaf is traditionally used in art".
Previous Winners:
2016 Oona Wagstaff
2017 Merryl Hopper
27th March 2019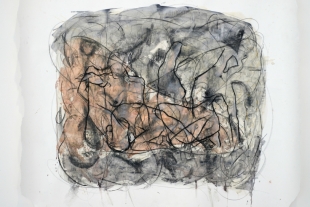 Delamore Arts Prize Winner 2017 - Meryl Hopper
The Trustees of Delamore Arts are delighted to award a prize to the most promising artist to graduate from the Plymouth College of Art Painting Drawing and Printmaking course each year. The prize includes a cash sum to help the artist set up their business or to finance a specific art project and invites the artists to exhibit with Delamore Art the following May during our annual exhibition.
The winner of the prize for 2017 and exhibiting with us at Delamore Art 2018 is Meryl Hopper. Meryl's practice revolves around people - personal and political - and identity - group and individual. Her work has moved through the encapsulation of world issues in the personal; portraiture - including self-portraiture - as a means of exploring identity; a study of the facets and structures of identity itself; and the effect of experience on outlook and presentation as we interact with the world around us, particularly seen in how the unconscious affects our artistic expression. She has recently transitioned from a love of painting with oils and a more considered output, to a desire for the immediacy of expression that drawing alone allows, together with a more intuitive, holistic approach where the whole body and psyche are one in the production of the work.
The previous Winner was Oona Wagstaff.
26th February 2018